Welcome to ACC Dual Enrollment
The Dual Enrollment Program provides an opportunity for eligible high school students to enroll in college courses and receive both high school and college credit for the course. While dual enrollment courses are mostly taught on the high school campuses, students can also earn credit on the ACC college campus. See more on ACC Dual Enrollment here.
Attention 11th and 12th graders!!
High school students are invited to listen to working professionals speak about their jobs and educational journeys. There will be a drawing for door prizes and snacks and lunch will also be provided. See details below or view this flyer. Hope to see you there!
The event is free to attend but space is limited so you must register.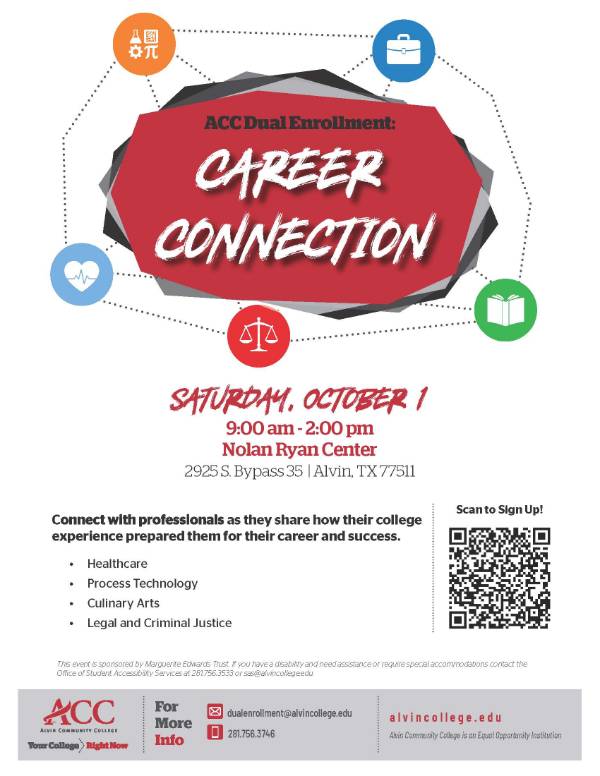 Interested in taking college courses in high school? Join us for one of our live information sessions below by clicking the link. We will cover the Dual Enrollment Program admission process, the types of courses offered, placement testing, and much more. View flyer here.
Date: Tuesday, November 8
Time: 6:00 pm
Join meeting here
Date: Tuesday, February 21
Time: 6:00 pm
Join meeting here
Date: Tuesday, March 28
Time: 11:00 am
Join meeting here
Why Dual Enrollment?
Save Time — Earn high school credit and college credit for the same course!
Fullfill Requirements — Satisfy requirements for the Texas High School Distinguished Achievement Plan.
Transferability — Academic Dual Enrollment courses will transfer with a grade C or higher to any Texas public university.
Save Money — Students that take Dual Enrollment courses on their high school campus save up to 75% in tuition.
What Qualities Should a Dual Enrollment Student Possess?
According to the Texas Higher Education Coordinating Board, approximately 65,000 high school students are participating in dual enrollment programs. The successful student should:
be highly motivated
be able to stick to a goal
make above average grades
possess good study habits
understand that the amount of work necessary to succeed in college courses may be greater than that of high school courses. In addition, dual credit courses become a part of a student's permanent college transcript.
What Junior High Students Need to Know to Prepare for College Classes
What is Dual Degree?
To help students reach their educational goals in a timely manner, local ISD's and Alvin Community College offers qualified students the opportunity to earn a high school diploma and an Associates of Arts Degree in General Studies at the same time. The Dual Degree program is a rigorous program that will require extra time and dedication. Interested students should contact their high school counselor or ACC Advisor for more information and to develop a degree plan.
Stay Connected!
YouTube Channel - ACC Dual Enrollment
Twitter - @alvindualenroll
Facebook - @accdualenrollment