[Click here to begin the Associate Degree Nursing Pinning]
Associate Degree Nursing Pinning
You, your families and loved ones are invited to join us for our virtual pinning ceremony on Thursday, May 21, 2020, at 6pm. Please click the video to view the virtual event.
---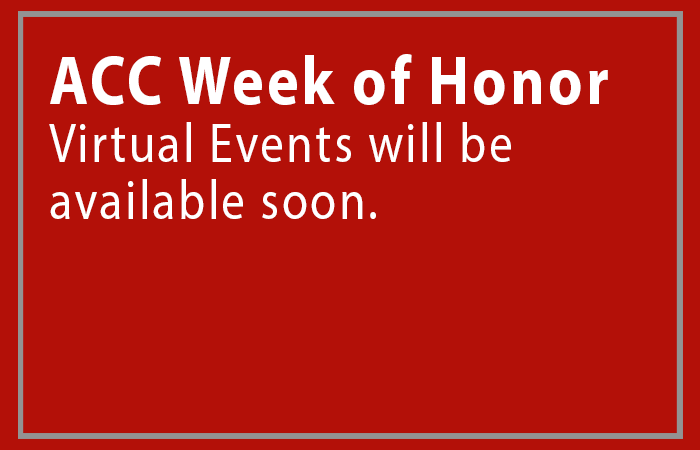 [Click here to begin the Dual Enrollment Graduate Commencement Ceremony]
Dual Enrollment Graduate Commencement Ceremony
You, your families and loved ones are invited to join us for our virtual commencement ceremony on
Friday, May 22, 2020, at 7pm.
Please click the video to view the virtual
ceremony.
---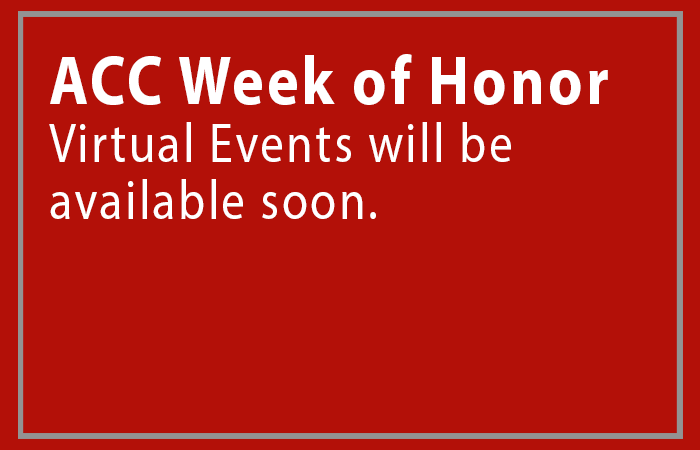 [Click here to begin the ACC Graduate Commencement Ceremony]
ACC Graduate Commencement Ceremony
Spring 2020 Graduation Announcement
As we at ACC look at the class of 2020, you, our graduates will stand out for your remarkable resilience. Despite the upheaval from the onset of the COVID-19 pandemic, you have persevered and completed your education at ACC.
To honor your dedication and hard work, we are excited to offer a Virtual Commencement Ceremony. The Dual Enrollment Ceremony can be viewed online Friday, May 22 at 7:00pm while a separate ceremony will be published online Saturday, May 23 at 10:00am for all other ACC graduates. These ceremonies will include the announcement of each graduate individually, along with their photograph. They will also include the certification of graduates and a Commencement Address from Dr. Belle Wheelan, President of Southern Association Colleges and Schools Commission on Colleges.
While we are offering all Spring graduates the chance to participate in the Virtual Commencement, we would like to also offer all graduates an invitation to participate in-person during the Fall Commencement Ceremony on December 12, 2020. If you would like to walk across the stage and proudly accept your diploma, we would love for you to come back for this ceremony.
Please understand, this is not how we envisioned Spring 2020 Commencement to be. We view commencement as one of the most rewarding parts of working for ACC. We would much rather conduct our ceremonies in person to celebrate with you and your families. However, with the health and safety of our students and staff in mind, we will move forward with the Virtual Commencement.
We are very proud of you and the work you have put into becoming an ACC graduate. Fins up!
General Information
ACC conducts a commencement ceremony in December for fall graduates and in May for spring and summer graduates. In order for a student to qualify to participate in the May ceremony, they must have completed their courses and met their degree or certificate requirements during the spring semester OR they must be currently registered (and paid in full or have set up a payment plan) in their last courses (12 hours maximum during summer) with anticipated completion by the end of the summer semester.
Graduates who indicate on their graduation application that they will participate in the ACC commencement ceremony will receive correspondence through their ACC student email or their USPS address on file with ACC.
Graduation Orientation dates and information can be found in The Pod.
Frequently Asked Questions
Students must complete a graduation application by the dates published in the academic calendar. There is no application fee is required to apply for graduation.
During the semester in which degree and/or certificate requirements are to be completed, the student must apply for graduation in order for the credential to be awarded.
Log on to The Pod.
From the top menu choose My Path at ACC >Apply for Graduation. Choose the program you are applying for and click Apply. Complete the online form and click Submit.
Once the online graduation application is submitted, you will receive a confirmation email. If you are lacking program requirements, you will receive an email indicating the need to meet with an Academic Advisor or Department Chair.
If you anticipate completing the necessary degree or certificate requirements in August or December, you may participate in ACC's December commencement ceremony.
If you anticipate completing the necessary degree or certificate requirements in May, you may participate in ACC's May commencement ceremony.
Students are required to wear a black cap and gown. It is suggested that graduates dress in accordance with the formality of this special occasion. Please consider that high heeled shoes or boots can be a safety hazard when wearing the graduation regalia. More information will be provided at orientation.
Cap, tassel (worn on right temple before commencement) and gown. Make arrangements for a family member/friend to secure your other personal items such as purses, backpacks, flowers, balloons, etc. Items will not be held for guests or students.
Commencement ceremonies are held at the ACC campus in the gym with guests' admittance by ticket only. Tickets for family and friends will be distributed to graduates at orientation.
Closed circuit viewing of the ceremony is provided in the ACC Theater to accommodate guests without tickets or those guests who arrive after the ceremony begins. There is no late seating in the gym once the ceremony begins and tickets do not guarantee a seat after the ceremony has begun.
*Guests with special seating requests must call 281-756-3533 one week in advance to reserve seating or other accommodations and should arrive 40 minutes prior to the ceremony.
A professional photographer will be present to take photos of each graduate. Students are not obligated to purchase photos.
Allow approximately 60-90 minutes for the ceremony itself.

More information can be found on The Pod, Login>My Path at ACC> Apply for Graduation.