Student Ambassador Program
What is a Student Ambassador?
ACC Student Ambassadors are a small group of dedicated, energetic and positive students with diverse backgrounds, degree plans, interests and extracurricular activities. They demonstrate ACC student pride while being a liaison between ACC and the community.
5:00pm August 27th, 2021 - Deadline
5:00pm September 3rd, 2021
Return completed application in person or via email to:
Marleyna Ochoa
Administrative Assistant to the Dean, Student Support Services
mochoa@alvincollege.edu
281.756.3829
K200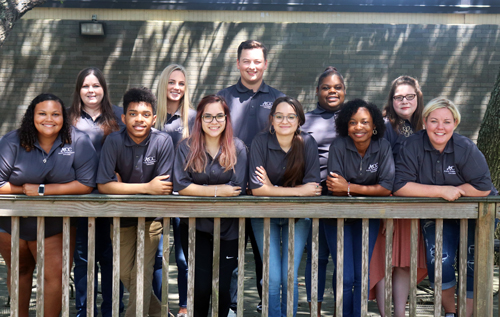 What are the requirements?
Enrolled in at least nine (9) hours at ACC
Minimum of 60 hours of service per semester
Cumulative GPA of 2.5 or higher AND be in good academic standing
Attend required training sessions and monthly meetings (counted toward the 60 hour requirement)
Availability for some evening and/or weekend events
Have own transportation for off-campus events
What are the duties?
Assist College Recruiter with community events
Provide information regarding ACC programs/services to student body and the community
Courtesy phone calls to prospective students
Campus Tours
Special Assignments
Rewards
Through the planning and production of these activities, Student Ambassadors will have the opportunity to develop a wide range of professional skills, such as team leadership, marketing, communications, and event management. In addition, Ambassadors will be eligible for:
$600 Scholarship
ACC Student Ambassador polo or a t-shirt along with other items
Networking opportunities with ACC Faculty and Administrators
End of Semester Appreciation Party
A Certificate of Service
Office Hours:
Monday through Friday
8 a.m. - 5 p.m.
Summer Office Hours:
Monday through Thursday
7:30 a.m. - 5 p.m.