WELCOME TO STUDENT SERVICES AT ALVIN COMMUNITY COLLEGE

WALK-IN SERVICES
Please note that due to ongoing campus construction, all walk-in services are currently located in Building K.
Please see the map below for reference.
---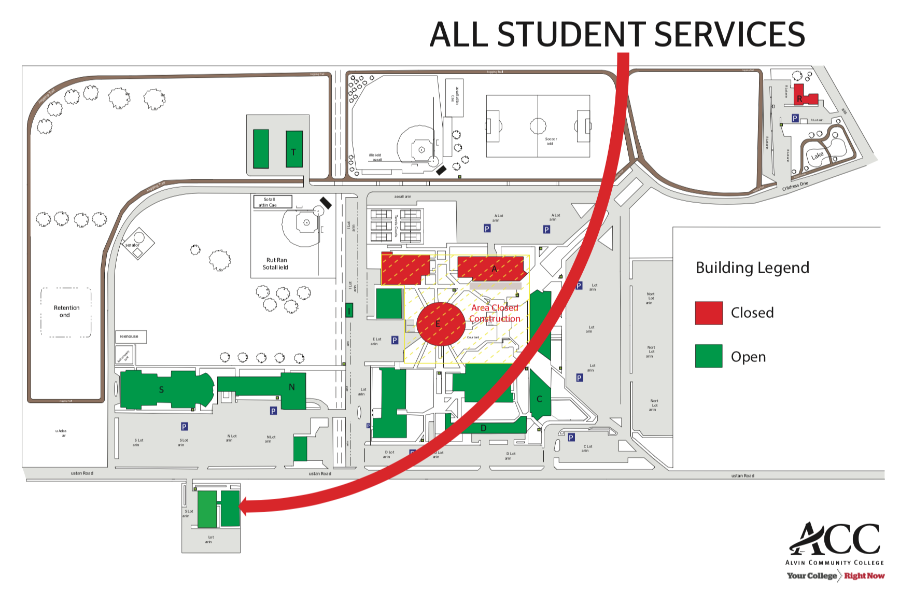 ---
Virtual Enrollment Assistance
for Student Services
Click the icon to request virtual enrollment assistance.

Student Services is here to support you!

Texas House Bill 1508
Notice to applicants to and enrollees in certain educational programs regarding the consequences of a criminal conviction on eligibility for an occupational license:
Under Texas Occupations Code 58.001, licensing authorities may have guidelines concerning prior criminal convictions that would make an individual ineligible for issuance of a given license. Applicants are encouraged to review all eligibility requirements related to degrees resulting in a license.
An individual who has been convicted of an offense may be ineligible for issuance of an occupational license.
Licensing authorities must establish and make available guidelines explaining why a particular offense is considered a basis for ineligibility for a particular license and other criterion that may affect the decision to grant or withhold a license.
There may be other state or local restrictions or guidelines used by a licensing authority to determine the eligibility of an individual who has been convicted of an offense for an occupational license issued by the licensing authority. Applicants should contact their local or county licensing authority for more information.
An individual has the right to request a criminal history evaluation letter regarding their eligibility for a license issued under Texas Occupations Code 53.102.
Questions related to eligibility requirements should be directed to the department chair of program of interest and/or individual licensing authorities.