ACC Mourns Loss of Communications Chair Bill Lewis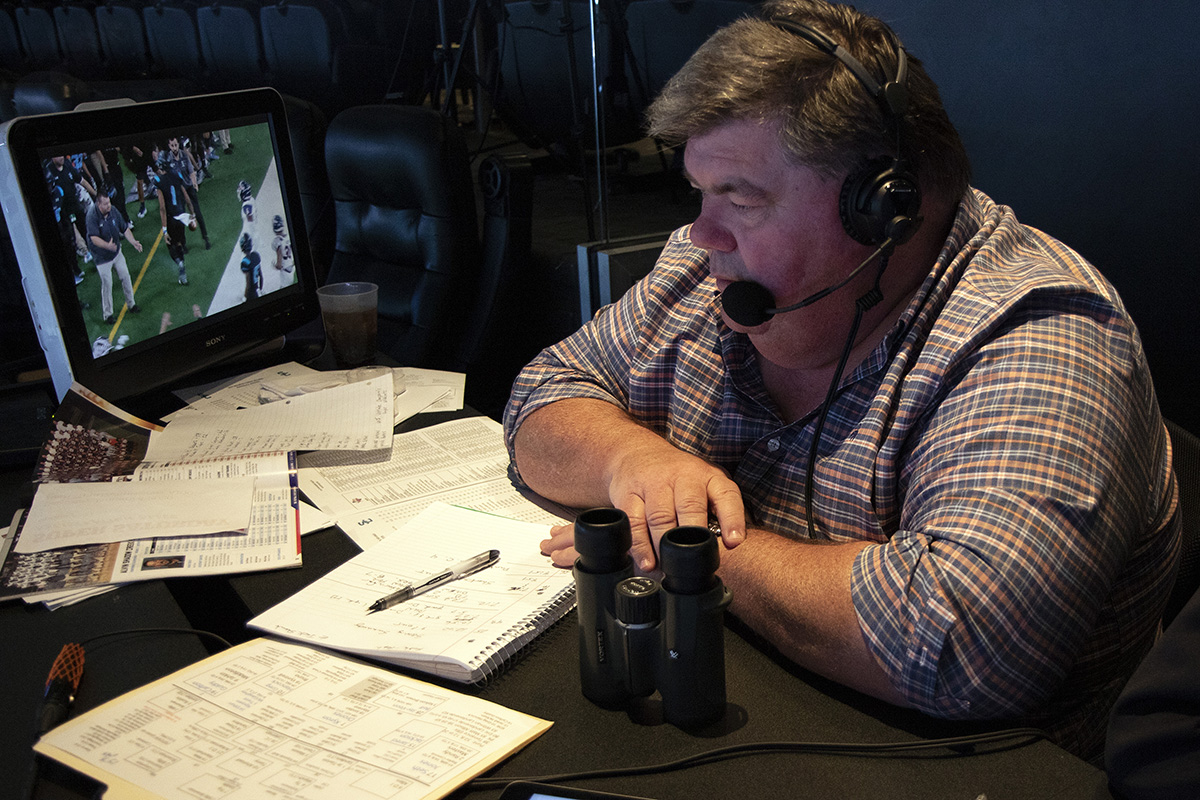 The Alvin community and Texas broadcasting lost a familiar voice with the passing of Alvin Community College Communications Chair Bill Lewis on August 8.
Lewis served as an instructor in broadcasting with ACC for 35 years and has taught and mentored many radio and television professionals in the region and throughout the country. For more than 30 years, he was also the voice of the Alvin ISD football games broadcast on Friday nights on KACC.
"Bill Lewis' passing was a shock to all at ACC," President Dr. Christal M. Albrecht said. "He was dearly loved in all the positions that he held on campus. We will miss him at the campus and within the community. His passing is such a deep and unexpected loss."
Aside from his duties as chair of the Communications program, Lewis was the college's athletic director and had served as interim Dean of Technical and Human Performance programs. He was also instrumental in organizing SkillsUSA broadcast competitions for local high school programs.
Lewis began his career at ACC in 1985. He had a Bachelor's Degree in Radio and Television and Master's Degree in Communication, both from the University of Houston. As a broadcasting instructor, many of Lewis' students have gone on to make a name for themselves in television and radio production.
In 2010, Lewis was recognized by his peers by receiving the ACC Foundation Excellence Award.
"Bill was a gentleman and a gentle soul. He made everyone feel special in the way he treated each of us with kindness," Albrecht said. "He had a way of interviewing people that made them forget they were being interviewed."
Listeners will recognized him most as the voice of Alvin ISD football games. Every Friday night in the fall since 1982, Lewis could be heard on KACC 89.7 FM calling the plays of football games for Alvin, Manvel and Shadow Creek High Schools. In what would be his final game, Lewis called the state championship win for Shadow Creek High School in 2019. Lewis would also help record video of student athletes so they could use the footage to seek scholarships.
For his dedication to the district, Alvin ISD named the second floor of the press box at Memorial Stadium as the Bill Lewis Media Room in 2017.
"When people talk about Bill Lewis, you always hear two words, 'respect' and 'integrity,'" Alvin ISD Athletic Director Mike Bass said. "He was the voice of Alvin ISD Football. Nobody knew the programs and the athletes as well as he did. No one could call the game with the knowledge that Bill Lewis had. People could live the game through his voice. Bill was so vivid in his description and his passion. He was a true professional and he did it for the love of broadcasting. Everybody has heard him broadcast a game."
Local football coaches respected Lewis' professionalism as a broadcaster, Bass said.
"He was my brother," he said. "Kindred spirits brings people together."
As the ACC athletic director, Lewis oversaw growth in the Baseball and Softball programs with more student athletes receiving honors for their achievement on the field and in the classroom.
"He did an excellent job reforming our programs, maximizing our facilities and updating our scholarship system," Head Baseball Coach Jason Schreiber said.
Along with former Communications Chair Cathy Forsythe and the ACC Foundation, Lewis was instrumental in the development of the K-219 studio. The facility was used to host live concerts for nearly 10 years and helped raise money for scholarships and equipment for the Communications Department. The studio was also vital as a classroom lab for students in Communication courses.
"Bill volunteered his time to help bring amazing talent live to Alvin," said Wendy Del Bello, ACC Foundation executive director. "His love of music and his desire to highlight the Communications program helped make Alvin Live a huge success. His spirit will live on at ACC for years to come."
Every year, Lewis would help coordinate the SkillsUSA competition. He worked with local high school broadcast teachers to test their students' abilities in local competitions for audio and video production.
Lewis leaves behind his wife, Barbara, three children and one granddaughter.