Manufacturing, Construction & Logistics Career Pathways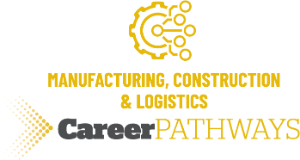 Do you like to build or repair things? The Manufacturing, Construction, & Logistics Career Pathway includes continuing education certificates in fields such as machining, pipefitting and welding. ACC also offers an academic certificate in Welding and Automotive.
Continuing Education Programs (CE)
From manual milling and turning, to CNC skills - students will gain hands-on experience in our state-of-the-art machine shop and CNC simulator labs. The curriculum combines classroom instruction and hands-on skills development focusing mainly on CNC operation and setup.
Millwrights, or "Field Machinists", are found throughout the industrial and petrochemical world and will continue to be a large part of the construction and maintenance industry. Following the NCCER curriculum, this course will introduce the student to many different skills in the millwright trade and provide them with the abilities and nationally accepted certifications needed to obtain employment within the field.
Pipefitting is the occupation of installing and/or repairing piping and tubing systems that convey liquid, gas, and occasionally solid materials. Pipefitters are in demand in many different settings, including HVAC, manufacturing, hydraulics, refineries, chemical plants, ships and ship building, power plants, pipe lines, construction, and other steam systems.
This 160-hour program provides classroom instruction and behind-the-wheel driving experience and training. Students will receive their CDL, "Class A" training in 4 weeks/day classes or 8 weeks/Evening classes.
From basic torch-cutting to more advanced arc and TIG welding techniques, the Welding Program offers a variety of courses designed to help you start or continue a career in welding. Welding courses combine classroom studies with extensive hands-on training in the welding lab at the ACC Main Campus in Alvin.