Manufacturing, Construction & Logistics Career Pathways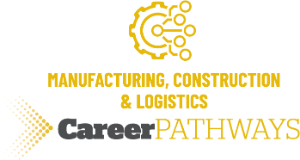 Do you like to build or repair things? The Manufacturing, Construction, & Logistics Career Pathway includes continuing education certificates in fields such as machining, pipefitting and welding. ACC also offers an academic certificate in Welding and Automotive.
---
Degree, Certificate and Continuing Education Programs
(AAS = Associate of Applied Science, CE = Continuing Education, TC = Technical Certificate)
This 160-hour program provides classroom instruction and behind-the-wheel driving experience and training. Students will receive their CDL, "Class A" training in 4 weeks/day classes or 8 weeks/Evening classes.
From manual milling and turning, to CNC skills - students will gain hands-on experience in our state-of-the-art machine shop and CNC simulator labs. The curriculum combines classroom instruction and hands-on skills development focusing mainly on CNC operation and setup.
Logistics, Materials, and Supply Chain Management, AAS, TC
The Logistics, Materials, and Supply Chain Management AAS degree is designed for the student to develop the knowledge and skills that will prepare the graduate for employment in areas within the total supply chain.
From basic torch-cutting to more advanced arc and TIG welding techniques, the Welding Program offers a variety of courses designed to help you start or continue a career in welding. Welding courses combine classroom studies with extensive hands-on training in the welding lab at the ACC Main Campus in Alvin.
The Welding Technician profession is woven into a multitude of businesses which require these skilled professionals to work in a variety of industries including energy, construction, and manufacturing. This program provides over 1500 contact hours of welding theory and hands on training and is tailored to meet industry standards.