Business Administration - A.S. Degree
Establish a Strong Foundation for a Career in Business
The Business Administration program at ACC can help you start or advance your career in the business field. By enrolling in our degree program, you will develop skills required to plan, organize, make effective decisions, communicate and lead complex organizations. If you are already working in the business field, but lack the education to advance your career, obtaining your associates degree at ACC can help you get to the next level.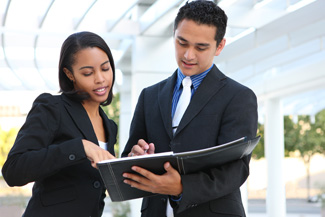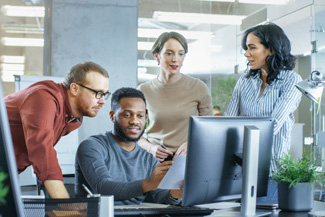 Career Opportunities
Two of the greatest benefits of a career in business administration are the flexibility and choice of industries that offer employment. Business Administration graduates have the opportunity to work in fields such as Human Resources, Marketing, Pre-law, Small Business, International Management, Sales, Accounting, Banking Finance, Management and Import/Export. Job opportunities in this field are abundant, especially in the Houston area, a key center for computer technology, import/export, manufacturing, heavy industry, and all types of commerce. Common job titles for Business Administration graduates include:
Account Manager
Executive Assistant
Human Resources Manager
Business Office Manager
Payroll and Benefits Administrator
Earnings of managers of office and administrative support vary greatly depending on the employer, the specialty, and the geographic area. According to Payscale, the average yearly salary for Business Administrators with an associate's degree is $52,000. The Bureau of Labor Statistics projects employment growth of 10 percent through 2026, faster than average for all occupations.
For more information on career opportunities in Business Administration, please visit Career Coach where you can explore the local job market, take a career assessment, and build a resumé.
What Will I Study?
ACC's Business Administration degree program is designed to meet the needs of students who major in Business and transfer to a four-year college/university. It was approved by the Texas Higher Education Coordinating Board with the intention that transferring students shall not be required to repeat courses transferred as part of the field of study curriculum.
By enrolling in this degree program, you will take courses in a wide variety of topics such as:
Business Principles
Business Computer Applications
Principles of Financial Accounting
Principles of Macro and Micro Economics
and more!
DOWNLOAD A PRINTABLE CURRICULUM GUIDE
BUSINESS ADMINISTRATION
Associate of Science Degree – 60 credit hours
FIRST YEAR - FIRST SEMESTER
CREDITS

ΔBCIS 1305 - Business Computer Applications

3

ΔBUSI 1301 - Business Principles

3

+ENGL 1301 - Composition I

3

+MATH 1324 - Mathematics for Business & Social Sciences

3
+PSYC 1300 - Learning Framework
3
SECOND SEMESTER

ΔBUSI 2305 - Business Statistics

3

Δ+ECON 2301 - Principles of Macroeconomics

3

+ENGL 1302 - Composition II

3

+HIST 1301 - United States History I

3

+SPCH 1321 - Business & Professional Communications or

+SPCH 1315 - Public Speaking

3
THIRD SEMESTER

+HIST 1302 - United States History II

3
SECOND YEAR - FIRST SEMESTER

ΔACCT 2301 - Principles of Financial Accounting

3

+Select from Creative Arts Core Curriculum

3

Δ+ECON 2302 - Principles of Microeconomics

3

+GOVT 2305 - Federal Government

3

+Select from Life & Physical Sciences Core Curriculum

3
SECOND SEMESTER

ΔACCT 2302 - Principles of Managerial Accounting

3

+GOVT 2306 - Texas Government

3

+Select from Language, Philosophy & Culture Core Curriculum

3

+Select from Life & Physical Sciences Core Curriculum

3
BUSINESS ADMINISTRATION (A.S.) DEGREE – CREDIT HOURS
60
+Denotes core requirement. Speak with Department Chair or Academic Advisor for proper course selection.
Δ Field of Study Curriculum
*How Much Will the Program Cost?
Approximate costs for the A.S. Degree program are $4,200 for in-district students and $6,900 for those out-of-district. This includes tuition and fees. Additional fees for books and supplies may vary.
For more information on education costs, payment options, payment plans, deadlines and more, visit our Tuition and Fees section.
Financial assistance is available for those who qualify. For more information, visit our Financial Aid section.
*Alvin Community College may change tuition rates and other fees without notice or when so directed by the Board of Regents.

COLLEGE & CAREER PATHWAYS
Business Administration is part of our Business & Marketing Career Pathway. Click the box below to see other Business & Marketing programs that may interest you.