Pharmacy Technician - A.A.S. Degree/Certificate
Train to Become a Pharmacy Technician
As the population continues to age, there is an increasing demand for prescription medicines to maintain health and quality of life. Pharmacy Technicians, integral and critical members of the health care team, work with Pharmacists in drug preparation, distribution, and management in a variety of health care settings. Duties include drug and sterile product preparation, counting, pouring, and labeling pharmaceutical products for distribution, data entry, inventory control and management, and customer service.
If you have a desire to help people maximize their health and a desire to be a part of a health care team, then a career as a Pharmacy Technician might be right for you. According to the Bureau of Labor Statistics, employment of pharmacy technicians is projected to grow 12 percent from 2016 to 2026, faster than the average for all occupations. ACC offers a two-year degree program and a one-year certificate program to help launch your career into this growing field.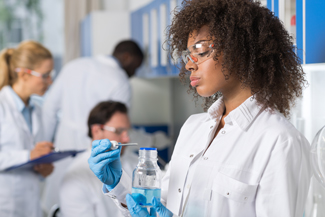 Career Opportunities
Pharmacy technicians are currently in very high demand. Texas is second in the nation for employing Pharmacy Technicians. The Houston metropolitan region employs over 8,000 Pharmacy Technicians with an average salary of $34,557.
Pharmacy Technicians work in a variety of settings including:
Retail Pharmacies
Hospitals
Outpatient care centers
Retirement and assisted living facilities
Medical and diagnostic laboratories
General merchandise stores
Food and beverage stores
For more information on Pharmacy Technician career opportunities please visit Career Coach where you can explore the local job market, take a career assessment, and build a resumé.
What Will I Study?
The Pharmacy Technician program at ACC offers an Associate Degree and a certificate program. You can compete the certificate program in two semesters and the AAS in Pharmacy Technician in 4 semesters. The program consists of online courses, hybrid courses (internet and classroom), laboratory, and a clinical internship at community and institutional pharmacies. Lectures are online and labs are in the classroom in the evening. Upon completion of our program, you will be prepared to take the national Pharmacy Technician Certification Exam (PTCE).
Curriculum Guide - Pharmacy Technician - A.A.S. Degree/Certificate
---
*How Much Will the Program Cost?
Approximate yearly costs including tuition and fees for the Degree program are $4,000 for in-district students, $6,200 for those out-of-district, and $9,600 for non-residents. Additional fees for books and supplies are approximately $828.
Yearly costs including tuition and fees for the Certificate program are approximately $2,100 for in-district students, $3,600 for those out-of-district, and $7,600 for non-residents. Additional fees for books and supplies are approximately $515.
For more information on education costs, payment options, payment plans, deadlines and more, visit our Tuition and Fees section.
Financial assistance is available for those who qualify. For more information, visit our Financial Aid section.
*Alvin Community College may change tuition rates and other fees without notice or when so directed by the Board of Regents.

COLLEGE & CAREER PATHWAYS
Pharmacy Technician is part of our Health Career Pathway. Click the box below to see other Health programs that may interest you.