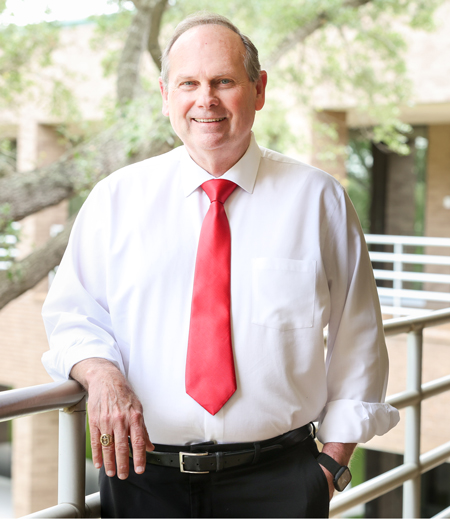 Dr. Robert Exley is the seventh president of Alvin Community College. Prior to ACC he served as the 17th President of Snead State Community College in Boaz, Ala., from January 2008 to August 2020. During his nearly 13-year tenure in Alabama, Dr. Exley focused on providing a compassionate campus experience for students and staff with an emphasis on academic excellence and civic engagement. His own higher education experience began at the community college level and has provided a foundation for his passion to encourage well-rounded citizens through comprehensive higher education opportunities. He also served as President of Parkland College in Champaign, Ill., and as the Vice President for Academic Affairs at Iowa Western Community College in Council Bluffs, Iowa. He has held a number of administrative positions with Miami-Dade College (MDC) over a nearly 10-year period.
Dr. Exley received his Associate of Arts degree from San Jacinto College in Pasadena, Texas, his BA and MS from the University of Houston-Clear Lake, and his Ph.D. from The University of Texas at Austin. In May 2007, Dr. Exley was named a Distinguished Graduate of the University of Texas at Austin's Community College Leadership Program in recognition of his national contribution to American Community Colleges. While a student at San Jacinto College in Pasadena, TX., he served as the 1979-1980 National President of Phi Theta Kappa. In January 2014, Phi Theta Kappa honored Dr. Exley with the prestigious Shirley B. Gordon Award of Distinction.
Dr. Exley values workforce development and community partnerships. He currently serves as a member of the Alvin-Manvel Chamber of Commerce Board as well as member of Pearland Prosperity Implementation Committee.
Dr. Exley is married to Anita Cross Exley, a fellow community college graduate. They have two adult children – Will Exley and Heather Feimster. They are the proud grandparents of two grandsons – Luke Feimster and Andrew Feimster, and one granddaughter – Everly Exley.