President's Introduction
The Alvin Community College Board of Regents has designated the development of the next strategic plan to guides ACC development over the next five years as a priority. We are excited that the college is again working with a consulting group, the Collaborative Brain Trust, to assist in the creation of the next five year strategic plan.
The planning process is designed to be very comprehensive and will involve many stakeholder groups. Those providing input include our surrounding Independent School Districts, Alvin-Manvel and Pearland Chambers of Commerce, representatives from the City of Alvin and the City of Pearland, business and industry partners, ACC employees and students, and many others.
The Strategic Planning Steering Committee, composed of a cross-section of ACC employees and students, will work closely with the consultants to review relevant student success data, survey and focus group data, employee feedback, and a wide variety of data inputs that will help the group discover gaps in programs or services and include areas for improvement.
Undertaking a strategic plan is a challenging process. We will look at our college under a microscope… investigate areas where we can continue to improve and also explore areas for expansion to meet our community needs. It requires that all stakeholders be open and honest in our discussions and that we are courageous enough to have deep, meaningful conversations about the college and where we see its future. It is an exciting time to be at ACC as we redefine our future and begin to realize all we can become.
Dr. Robert J. Exley
College President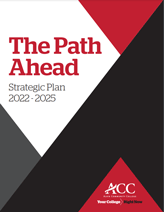 ---
Strategic Plan Steering Committee
- Dr. Stacy Ebert - Co-Chair, Dean, Legal and Health Sciences
- Dwight Rhodes – Co-Chair, Instructor & Department Chair, Biology
- Mike Beck, Vice President, Instruction
- Thomas Parker, Instructor & Department Chair, English
- Traci Elliott, Instructor & Department Chair, Psychology/Sociology
- John Murray, Instructor & Department Chair, Paralegal
- Robyn Ketchum, Instructor, Neurodiagnostic Technology
- Tammy Giffrow, Sr. Executive Administrative Assistant to President/Board Manager
- Kelly Klimpt, Vice President, Information Technology
- Lorrent Smith, Director, Marketing & Media
- John Matula, Vice President, Student Services (Interim)
- Alexander Marriott, Dean, Arts and Sciences (Interim)
- Pat Sanger, Dean/Executive Director, IER (Interim)
- Sarah Currie, CE Director, Business & Technology Programs
- Wendy Del Bello, Vice President, Development & Outreach
- Earnest Burnett, Instructor, Speech
- Jessica Ranero-Ramirez, Director, College & Career Pathways
- Karmen Wells, Sr. Administrative Assistant, Professional Technical & Human Performance
- Gabriela Leon, Director, Financial Aid
- Mamie Precious Turay, Student, Ambassador
- Note Taker: Juanita Marasckin, Executive Administrative Assistant, Instruction

Comments or questions? Email Patrick Sanger at: psanger@alvincollege.edu.