Biological Science - A.S. Degree
Discover the Complexity of Living Organisms
Biology is the science of life and living organisms. ACC's Biological Science program will help you understand the nature, scope and relationships of life forms, as well as how biology applies to the environment, engineering, medicine, and everyday life.
The program consists of a sequence of courses that will prepare you for transfer to a four-year college/university and a variety of career opportunities.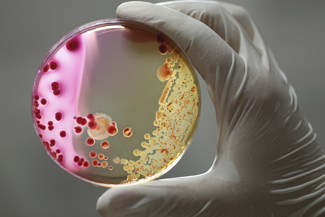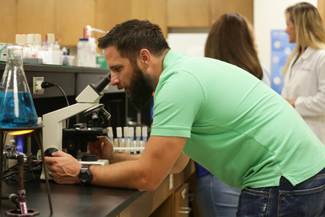 Career Opportunities
An associate's degree in biological science can lead to a number of entry-level jobs in the sciences including Laboratory Technician, Medical Assistant, and Veterinary Technician. However, many careers in this field require more advanced levels of education.
For more information on career opportunities in Biological Science, please visit Career Coach where you can explore the local job market, take a career assessment, and build a resumé.
What Will I Study?
Your journey through the Biological Sciences A.S. degree program will allow you to take core courses in mathematics, computer science, humanities, social science and the following biological science courses:
Biology
Chemistry
Anatomy & Physiology
Curriculum Guide - Biological Science - A.S. Degree
---
The ACC Biological Sciences degree program is designed to help you transfer to a four-year college or university to obtain a Bachelor's degree. By first obtaining an associate's degree, you will have the flexibility to explore different branches of science to find your match without spending as much time and money.
Students who transfer to a four-year college typically major in one of the following subject areas:
Biology
Business Administration
Chemistry
Communications
Conservation
Engineering
Forestry
Geology
Mathematics
Pharmacy
Physics
Pre-Dentistry
Pre-Medicine
Pre-Veterinary
When planning your degree program and selecting electives, it is important to understand the requirements of the major department in the college or university you expect to transfer to.
*How Much Will the Program Cost?
Approximate yearly costs for the A.S. Degree program including tuition and fees are $4,200 for in-district students, $6,960 for students out-of-district, and $9,840 for non-residents. Additional fees for books and supplies may vary.
For more information on education costs, payment options, payment plans, deadlines and more, visit our Tuition and Fees section.
Financial assistance is available for those who qualify. For more information, visit our Financial Aid section.
*Alvin Community College may change tuition rates and other fees without notice or when so directed by the Board of Regents.

COLLEGE & CAREER PATHWAYS
Biological Science is part of our Science, Technology, Engineering, & Mathematics Career Pathway. Click the box below to see other programs that may interest you.
Science, Technology, Engineering & Mathematics Career Pathway