Campus (Concealed) Carry FAQ
On June 13, 2015 Governor Greg Abbott signed into law Senate Bill No. 11 (S.B. 11), also known as the "campus carry" law.

S.B. 11 amends Section 411.2031 of the Texas Government Code to allow carrying of handguns by license holders on Community College campuses beginning on August 1, 2017.

While the College President may not generally prohibit license holders from carrying concealed weapons on the campus, the law gives public colleges some discretion to regulate campus carry including designating certain areas on campus where concealed handguns are prohibited.

The law authorized the College to adopt and receive approval of its campus carry policy from the Board of Regents by August 1, 2017.

Only persons with a state-mandated license to carry (LTC) (previously referred to as a concealed handgun license (CHL)) are allowed to carry a concealed handgun on campus so long as the area has not been designated as a weapons free area. A person must be at least 21 years of age, undergo training and meet other statutory requirements to obtain a LTC in the State of Texas.

In addition to authorizing campus carry, in 2015 the Texas Legislature made revisions to the Penal Code to allow license holders to openly carry a handgun in various locations in the State of Texas starting January 1, 2016.
While a license holder can visibly carry their handgun in a waist belt holster or a shoulder holster under the "open carry" law, S.B. 11 only addresses "campus carry" to give license holders the right to carry handguns in a concealed manner on Community College campuses starting August 1, 2017.
"Open carry" is still be prohibited on the College campus and any public or private driveway, street, sidewalk or walkway, parking lot, parking garage or other parking area of the College.

S.B. 11 addresses only concealed handgun-carry on Community College campuses, and does NOT allow open-carry. Thus, under Texas law, it will continue to be illegal to display a firearm inside campus buildings or on campus streets, parking lots, sidewalks, walkways, etc.

The campus carry law does not prohibit College faculty and staff from carrying a concealed weapon so long as it is consistent with the College's campus carry policy. As mandated by S.B. 11, the College is responsible for promulgating guidelines for campus carry, including the extension of this privilege to faculty and staff.
No, S.B. 11 and the Texas Penal Code prohibit a license holder from carrying a concealed weapon at an on campus sporting event.

S.B. 11 requires that the College give notice to license holders for each building restricting the concealed carry of a weapon. Notice is defined under Texas Penal Code Section 30.06 to include a sign that:
Contains this language "Pursuant to Section 30.06, Penal Code (trespass by holder of license to carry a concealed handgun), a person licensed under Subchapter H, Chapter 411, Government Code (concealed handgun law), may not enter this property with a concealed handgun.";

Is written in both English and Spanish;

Is written with contrasting colors and with block letters at least one inch in height; and is displayed in a conspicuous manner clearly visible to the public. Below is an example of the required signage: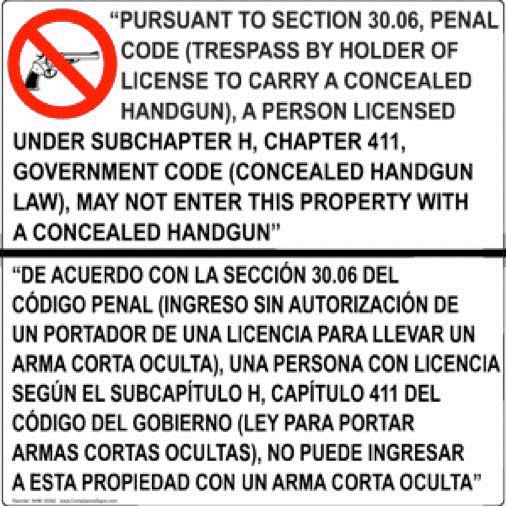 A listing of areas on the ACC Campus that have been designated as a weapons free zone is available under the "Documents" section of this page.

The College welcomes the input of faculty, staff, students, its stakeholders and the surrounding ACC communities. Please contact the ACC Police Chief or the ACC President's Office to provide suggestions and comments.
Under S.B. 11, a person who fails to comply with the concealed handgun rules and regulations prescribed by the College will be in violation of the Texas Penal Code and criminal charges will be brought against the violator.