Pursue your Passion
Do you sing, play an instrument, write songs, or just love music? Do you dream of directing a band or choir, or being a music teacher? Then come to ACC to pursue your passion.
The ACC music department faculty are professionally active musicians and educators who care for student musicians as individuals. Our small class size provides personalized instruction and enables students to strive for excellence as they prepare to transfer to a four-year university.
The Department of Music also welcomes students of any major who want to take private lessons, participate in the choirs and bands, or to take music courses to supplement the Core curriculum.
Community members are also a vital part of the music department's and the college's mission and are encouraged to participate in ensembles or to take private lessons.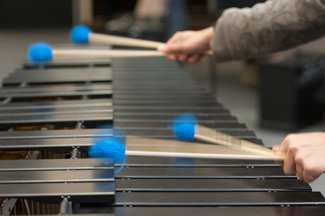 Career Opportunities
Many opportunities are available for musicians such as:
Music Performance – classical, pop, musical theater, jazz, church music
Music Education – choir director, band director, elementary music teacher, private lessons teacher
Music Composition – singer songwriter, writing for ensembles, radio/television/film composing
Music Business – recording studio, music production, retail, instrument repair, marketing
Health Professional – music therapy
According to the Bureau of Labor Statistics, employment of musicians and singers is expected to grow by 6% through 2026 with a median hourly wage of $32.11 in Texas.
For more information on career opportunities in Music, please visit Career Coach where you can explore the local job market, take a career assessment, and build a resumé.
What Will I Study?
The Music Program offers fully transferable courses for music majors and non-majors including:
Private lessons – voice or instrument
Music Theory
Ear Training & Sight Singing
Ensembles – Concert Choir, Concert Band, Chamber Singers, Jazz Band
Music Literature
Curriculum Guide - Music, A.A.
---
*How Much Will the Program Cost?
Yearly costs for the Music A.A. Degree program including tuition and fees are approximately $4,200 for in-district students, $6,960 for students out-of-district, and $9,840 for non-residents. Additional fees for books and supplies may vary. Music scholarships are available and can waive out-of-district fees.
For more information on education costs, payment options, payment plans, deadlines and more, visit our Tuition and Fees section.
Financial assistance is available for those who qualify. For more information, visit our Financial Aid section.
*Alvin Community College may change tuition rates and other fees without notice or when so directed by the Board of Regents.
Scholarships are available for music majors and non-majors by audition. Typical awards for music majors are $1000 per year which waives out-of-district fees. Non-music majors can receive up to $100 for performing in an ensemble.
For more information regarding scholarships, please visit the Academic Workswebsite.

COLLEGE & CAREER PATHWAYS
Music is part of our Liberal Arts Career Pathway. Click the box below to see other Liberal Arts programs that may interest you.