Take Center Stage or Work Behind the Scenes in ACC's Drama Program
ACC's Drama Department offers everything you need to begin a career in the performing arts. From acting, directing, lighting, sound, makeup, costume, set design, and special effects, ACC delivers it all.
As a Drama student, you'll have the opportunity to participate in any of the five plays ACC produces each theatre season. Past seasons have included plays, musicals, and children's shows such as Little Shop of Horrors, The Haunting of Hill House, The Reluctant Dragon, A Christmas Carol, and many others. Guided by highly educated, experienced, and knowledgeable faculty, you will receive training in script analysis, stage makeup, voice and diction, acting, technical theatre, and much more.
You'll enjoy working and performing in one of the best theatre facilities available in the Gulf Coast region. ACC's theatre is a 349 seat proscenium with a full stage house, fully computerized lights and sound, four flying electrics, two lighting catwalks over the house, two full sized dressing rooms, fully equipped scene shop, costume shop, box office, green room, and a "diner."

Career Opportunities
So what can you do with a degree in Drama? The possibilities are numerous! Graduates from ACC's Drama Department have gone on to work in positions such as Technical Director for Disney, Movie Producer in Los Angeles, Animated Voice Specialist in Houston, Box Office Manager at Florida State University, and Cabaret performers doing one-person shows in New York, Los Angeles and Dallas. Other graduates are writers, actors, directors, production assistants, entertainment software designers, teachers, and professors. Your career options are endless due to the diverse and comprehensive training available in theatre at Alvin Community College.
According to the Bureau of Labor Statistics, the job outlook for entertainment occupations is expected to grow by 13% through 2031, which is higher than the average for all occupations.
For more information on career opportunities in Drama, please visit Career Coach where you can explore the local job market, take a career assessment, and build a resumé.
What Will I Study?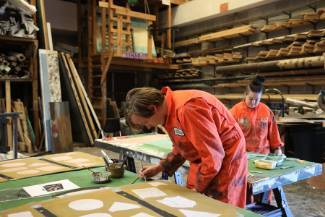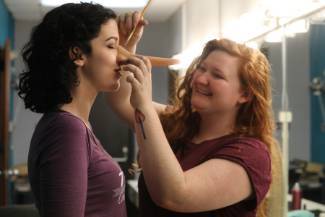 The ACC Drama Department is made up of educators who will prepare you for careers in the theatre industry by focusing on individual needs and career goals. Every student, due to small class sizes, gets to experience personalized instruction. In addition, you'll receive a well-rounded skillset in every area of theatre that will help you succeed when transferring to four-year universities and with obtaining future employment.
Your journey through the Drama A.A. degree program will allow you to take core courses in mathematics, humanities, and the following drama/theatre courses:
Acting
Makeup
Theatre Practicum
Stagecraft
Voice for Theatre
Script Analysis
and more!
Drama, A.A. Degree
---
*How Much Will the Program Cost?
Approximate costs for the Drama or Musical Theatre A.A. Degree program including tuition and fees are $4,200 for in-district students, $6,960 for students out-of-district, and $9,840 for non-residents.
For more information on education costs, payment options, payment plans, deadlines and more, visit our Tuition and Fees section.
Financial assistance is available for those who qualify. For more information, visit our Financial Aid section.
*Alvin Community College may change tuition rates and other fees without notice or when so directed by the Board of Regents.

COLLEGE & CAREER PATHWAYS
Drama is part of our Liberal Arts Career Pathway. Click the box below to see other Liberal Arts programs that may interest you.