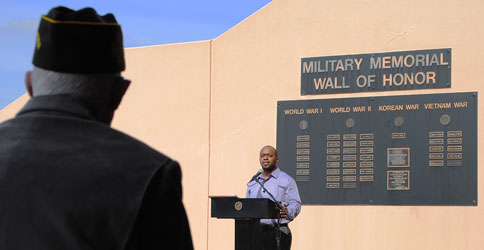 On the battlefield, the military pledges to leave no soldier behind. As a nation,
let it be our pledge that when they return home, we leave no veteran behind.
-- Dan Lipinski
Veterans Educational Benefits
ACC is proud to offer approved educational benefits to veterans. Prospective students should contact either the VA Regional Office or the Veterans Coordinator.

Requirements for Requesting Veterans Educational Benefits
Chapter 35 - Survivors/Dependents Education Benefit
VA Form 22-5490: Application for VA Education Benefits www.gibill.va.gov
All college transcripts
Chapter 31 Vocational Rehabitation Educational Benefits: Assists Veterans with service-connected disabilities to prepare for, find, and keep suitable jobs. For Veterans with service-connected disabilities so severe that they cannot immediately consider work, Vet Success offers services to improve their ability to live as independently as possible. Meet with a Voc Rehab counselor at the Houston Regional Office, or online.
Need 1905 from Regional Office
Transfer students: if you have received VA benefits previously please complete a Change of Program form:
Student must complete a Request for Benefits form each semester before they will be certified.
Print and submit form to the Veteran Services Coordinator.
Application Procedure
Email your complete application to the Veteran Services Coordinator. Once submitted, your paperwork will be processed according to the regulations and guidelines set forth by the Department of Veterans Affairs.
View the pamphlet regarding the new Post-9/11 GI Bill®* (Chapter 33)
Hazlewood Act
The Hazlewood Act is a State of Texas benefit for qualified Veterans, spouses, and dependent children.
Benefits:
Hazlewood Tuition provides up to 150 credit hours of tuition exemption
Hazlewood Legacy Act allows qualified Texas veterans to transfer any unused hours to their dependent child. Children of eligible veterans must meet the institution's requirement for Satisfactory Academic Progress and maintain an overall 2.0 GPA in order to continue receiving their parent's Hazlewood benefits.
The Hazlewood Exemption provides exemption of payment for tuition and certain fees to honorably discharged or separated Texas veterans and to eligible dependent children and spouses of Texas veterans. A widow or dependent child of a service member killed in action, or who has been deemed 100% service-connected disabled, may also qualify for the Hazlewood Exemption.
Requirements:
Show DD-214
Confirm entrance (home of record or place of entry) from the State of Texas
Letter of ineligibility for the Montgomery GI Bill® from the Department of Veterans Affairs, if discharge was post 9/11
Receipt of an honorable or under honorable conditions discharge
Must have served at least 180 days of active duty (excluding basic training time)
Resident of Texas for a minimum of 12 months prior to college registration
Not in default for any educational student loan
Transfer Students: Statement of Hazlewood hours for all colleges or universities attended after September 1995 and prior to ACC enrollment
Application Deadline:
New Applicants: First-time Hazlewood veterans and dependents must apply two weeks prior to the payment deadline of the term. If application is submitted by the deadline, but not yet approved, the student must make arrangements to pay from personal funds. The student will be reimbursed for the payment made once approved for Hazlewood Benefits. First-time applications submitted after the deadline of two weeks prior to the payment deadline, will be processed for the next available term.
Previous Recipients: Students who have used their Hazlewood benefits previously at ACC may apply through late registration of the term.
The Registrar's Office will process the application for benefits and contact the student directly by mail. For additional information and applications for the Hazlewood Benefits Act, visit College for All Texans.
Veterans Administration
VA Contact Information: Phone: 1-888-442-4551
Monthly verification of attendance: 1-877-823-2378
Direct Deposit Information: 1-877-838-2378
Compliance with 38 USC 3679(e)
Allowing Veterans to Attend or Participate in Courses while Pending VA Payment
Public Law
Section 103 of Public Law (PL) 115-407, 'Veterans Benefits and Transition Act of 2018,' amends Title 38 US Code 3679 by adding a new subsection (e) that requires disapproval of courses of education, beginning August 1, 2019, at any educational institution that does not have a policy in place that will allow an individual to attend or participate in a course of education, pending VA payment, providing the individual submits a certificate of eligibility for entitlement to educational assistance under Chapter 31 or 33.
Compliance
In accordance with Title 38 US Code 3679(e), Alvin Community College adopts the following additional provisions for any students using U.S. Department of Veterans Affairs (VA) Post-9/11 GI Bill® (Ch. 33) or Vocational Rehabilitation & Employment (Ch. 31) benefits, while payment to the institution is pending from VA. Alvin Community College will not:
Prevent the student's enrollment;
Assess a late penalty fee to the student;
Require the student to secure alternative or additional funding;
Deny the student access to any resources (access to classes, libraries, or other institutional facilities) available to other students who have satisfied their tuition and fee bills to the institution.
However, to qualify for this provision, such students may be required to:
Produce the VA Certificate of Eligibility (COE) by the first day of class;
Provide a written request to be certified;
Provide additional information needed to properly certify the enrollment as described in other institutional policies
*GI Bill® is a registered trademark of the U.S. Department of Veterans Affairs (VA). More information about education benefits offered by VA is available at the official U.S. government Web site at http://www.benefits.va.gov/gibill.