Frequently Asked Questions
Person Proxy is now Live! Person Proxy is a Colleague protocol by which a student-designated person can view certain areas of a student's record online. Person Proxy is an online "view only" option and should not be mistaken as a FERPA Limited Disclosure access. Students may change or remove access at any time. Person Proxy is completely FERPA compliant. The link to get to Person Proxy is under My Student Records in The Pod.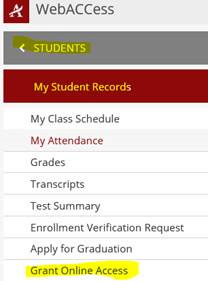 Once the student click's on Grant Online Access, they are directed to Student Self Service where the student can then designate who to grant access to. The student will be prompted to enter their Proxy's first name, last name, DOB, SSN, email address and any former last names. Students cannot grant access to anyone without a valid SSN.
You can save money on college tuition by taking classes close to home at a reasonable cost. Alvin Community College's tuition is significantly less than most Texas universities. You can experience college before you graduate from high school. You can gain the technical skills necessary to get a job right out of high school.
House Bill 505 removed limitations on the number of classes a student may take. However, Alvin Community College recommends that students taking more than three classes per semester do so only under the recommendation or advisement of the ACC Advisor or the High School Counselor.
While the student will receive a letter grade from the college, all the dual enrollment courses will also have a corresponding numeric grade that will be delivered to the ISD. Grades will appear on both student high school and college transcripts.
Dual Enrollment Academic Core classes are guaranteed to transfer with a grade C or higher to any Texas public college or university. Some universities will accept "D" grades. Students should check with the university, public or private, to determine the policy regarding the acceptance of college transfer credit. Many workforce education courses, e.g. welding, EMT, medical terminology, culinary, BCIS, keyboarding are not designed for transfer to a baccalaureate.
College courses are calculated by hours for credit. Most college courses are 3 credit hours; 4 credit hour courses usually have a lab attached. The second number of the course lets you know how many hours you are earning. Ex: History 1301=3hrs; Spanish 1411=4hrs.
Yes! Dual Enrollment students should register for summer courses with their assigned ACC Advisor.
A Student Data Change Request can be completed online in
The POD
or with your high school based ACC Advisor. Students may also download the form from the Dual Enrollment webpage under the Dual Enrollment Forms section.
High school accommodations/modifications will not be honored in dual enrollment classes. Contact the ACC Student Accessibility Services Office to discuss any test and/or classroom accommodations for all dual enrollment classes. Call 281-756-5701 or email for an appointment:
sas@alvincollege.edu
.
Students should maintain a minimum 2.0 ACC cumulative GPA. Students are encouraged to speak directly to the admission office or refer to the admission webpage of their college of choice for GPA standards set by that college.
After you have completed the steps for enrollment into the Dual Enrollment Program, your ACC Advisor will register you for your college courses. Students will receive an email with instructions on how to view the fee statement, the payment deadline, payment plan information, and instructions on how to use the ACC online payment system.
Dual Enrollment courses are college level courses. They are more rigorous but achievable with hard work, good study habits and turning your work in ON TIME!
Visit the ACC College Store.Students are encouraged to purchase their textbooks from the ACC College Store. There are some classes that require additional access codes that are bundled with the textbook only when purchased at the ACC College Store.
The Testing Center administers all assessment tests. The Center is located in Building A. If you have any questions call 281.756.3526 or 281-756-3531.
Visit Credit Classes Refund Policy to learn more about the ACC refund policies.
Many home school students and students from private schools take college courses. Contact Monica Silvas, msilvas@alvincollege.edu, for information on enrollment.
Students can expect to spend about 10 hours a week online for a 3 credit hour course. Students should review the
course syllabus available online
, to review the course description and requirements. The distance learning environment is very different from the classroom. Self-motivation is essential for success. Students less than senior grade level are not generally advised to take online courses.
Federal Financial Aid is not available for dual enrollment students. Federal aid is only awarded after high school graduation.
Students participating in the Dual Enrollment program and only taking classes at their high school are not required to provide proof of the Bacterial Meningitis. Dual Enrollment students taking classes on the ACC main campus, must provide proof prior to registration.
Dual Enrollment Orientation has been created to empower and equip students with the tools and resources needed for success in the Dual Enrollment Program. Orientation is required for all new Dual Enrollment students. Effective 2014, Dual Enrollment Parent Orientation will also be available. Refer to our webpage for orientation dates. While orientation is informative, we try to make it as lively as possible with door prizes and snacks!
January and February - course selection at your high school
May - Dual Enrollment Admissions priority deadline
June and July - New Student Orientation sessions
Mid July to early August - registration
End of July to August - "You Have Been Registered" Emails
August 16, 2022 - payment deadline
Stay Connected!
YouTube Channel - ACC Dual Enrollment
Twitter - @alvindualenroll
Facebook - @accdualenrollment