Dual Enrollment Orientation
Dual Enrollment 2020-2021 New Student Orientation (NSO)
Dual Enrollment Virtual New Student Orientation

View the DE New Student Orientation PowerPoint with Videos
Check out the ACC Dual Enrollment YouTube Channel & Subscribe
(Includes great Instructional Videos and more to come)!
Thank you for your patience.
---
NEW FALL 2020 - DUAL ENROLLMENT STUDENT SUCCESS & SUPPORT
VIRTUAL WORKSHOPS
*For enrolled students only - Log into the DE POD page to join*
Bi-Weekly - Tuesdays at 6:00pm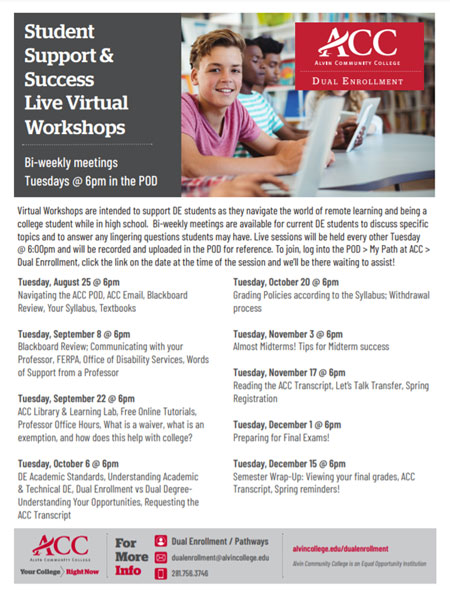 [Dual Enrollment Student Support & Success Live Virtual Workshops]
If you have any questions, visit with an ACC Advisor. To reach a specific Advisor visit our Dual Enrollment Staff page.
You can also email your questions to us directly: dualenrollment@alvincollege.edu
Follow us on Twitter @alvindualenroll
Like us on Facebook @accdualenrollment