Albert Yancy
From Inmate to College Graduate, A Life Transformed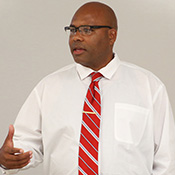 When Albert Yancey was 17, he was an honor roll student, starred on the high school football team and was selling drugs.
"I was living two lives," Yancey said. "I eventually succumbed to that lifestyle."
After he was convicted of a violent crime and sentenced to prison, Yancey struggled to find meaning in his life and he wasn't sure if he would ever see the outside of a prison unit ever again.
"I was lying on the floor and I thought I was going to die," he said.
After he was released from administrative segregation in the Texas Department of Criminal Justice, Yancey decided to pursue an education with Alvin Community College.
"ACC exposed me to something different," he said.
While serving his time, Yancey earned an Associate Degree in Management as well as an Associate Degree in General Studies. Since his recent release on parole, Yancey has worked with an automotive dealership and he has started a ministry to help at-risk youth.
"Since I've been released, I feel like I'm moving at a fast pace," he said. "When you find a purpose you begin to walk with a purpose. Without you all, I would not be me."