Bailey Martin
Career Opportunities in Nursing Began at ACC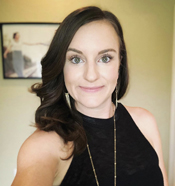 My name is Bailey Martin. I'm a wife, mother of two beautiful babies, and proud ACC graduate! The foundation for my nursing career was obtained through ACC's ADN program back in 2013. All throughout nursing school, I worked as a Patient Care Tech at UTMB Galveston on the neuro/neurosurgery unit. I was offered a nursing position, on the same unit, the day I told my boss I passed the NCLEX. A year later I went back and obtained my BSN through Texas Tech University.
As my own family grew, I decided to pursue a position as a Nurse Case Manager. My thought was to find a job more in line with the hours of my children, rather than working night shifts. I dove in head first, and boy was I in for a surprise. Being a case manager taught me so much about time management, medical necessity in a hospital setting, and the overall process of how a hospital runs. I gained valuable knowledge about disease processes while rounding with the doctors. I was intrigued about the underlying pathology of common disease processes they would discuss each morning. This curiosity is what led me to the decision to further my career as a Family Nurse Practitioner.
Most recently, I've accepted a position as a school nurse with Texas City ISD. This position has allowed me to take a step back from the high stress position in case management, and ease back into direct patient care. I am also able focus more of my attention on to going back to school. I am now in my first semester of nurse practitioner school at UT Arlington. I am thrilled to broaden my knowledge in the nursing profession, and pursue a career as a nurse practitioner. I know without a doubt that I wouldn't be where I am today without Alvin Community College!