Marcelo Hinojosa
A Proud ACC Graduate Keeps the Tradition Going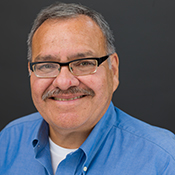 Originally, I did not want to attend Alvin Community College. I grew up in a time period when most Hispanics did not attend college. As such, I wanted to join the Military (I did not care what branch). I had no self-esteem and no self-worth.
My father drove me to register and I remember telling him that I did not want to go to college but wanted to join the military. He would not give in so I wound up registering at ACC.
I was the first in my family to attend college and Alvin Community College was the only place where I could grow my self-esteem and self-worth. My first semester was a disaster. I was placed on academic probation.
Eventually I graduated with two degrees from ACC. One in Liberal Arts and the other in Business Administration. After ACC, I attended and graduated from the University of Houston at Clear Lake with a BS in American Jurisprudence.
After graduation, I began a career as an Insurance Adjuster for Texas Farm Bureau. In 1989 I opened and operated Frontier Adjusters of Freeport, Texas for the next 25 Years.
Today I am a Solutions Specialist for TWFG Insurance Services. I continue to hold Licensing as an Insurance Adjuster, Property & Casualty Agent, Life & Health Agent, VIP Insurance Inspector, Auto Appraiser, and Notary Public.
This is all due in part to the foundation and education I received at Alvin Community College. I am proud to say that I am an ACC graduate and proudly display my degrees in my office.
My wife and I have three students enrolled at ACC today.
Thank you, ACC and all my instructors, counselors, and everyone who helped me become successful today.